Choosing a Bakery Franchise: Expert Tips for Success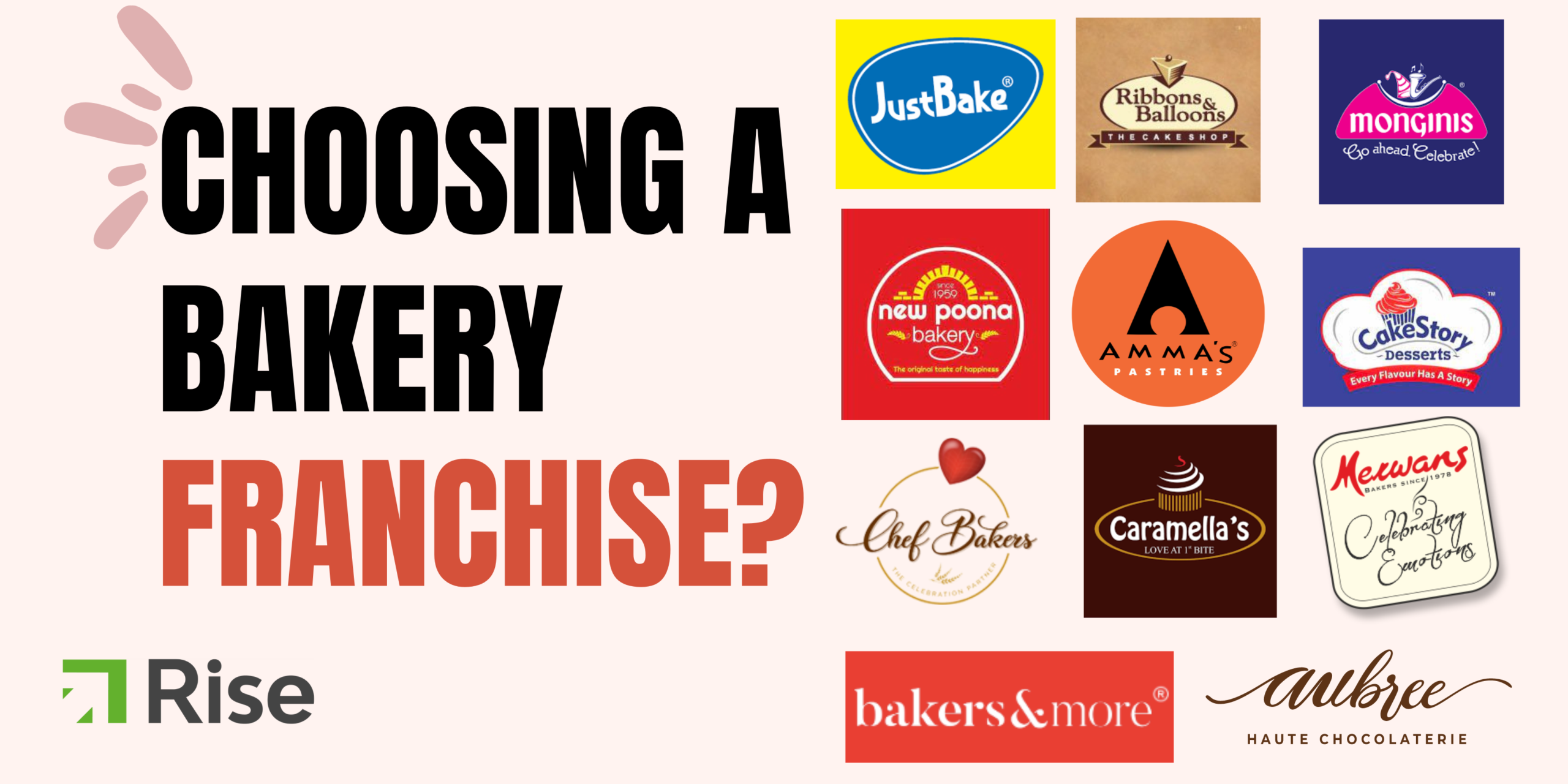 Investing in a bakery franchise can be a lucrative business opportunity, but choosing the right franchise is crucial to the success of your investment. With so many options available, it can be challenging to decide which bakery franchise to invest in. In this blog, we will discuss ten key factors to consider when choosing a bakery franchise to invest in.
      1. Reputation and History
The reputation and history of a bakery franchise are critical when deciding where to invest. Research the franchise's history and read reviews from past and current franchisees. Check if the franchise has any legal or financial issues that could affect your investment.
Industry awards and accolades are an excellent indicator of a franchise's reputation. Look for a franchise that has received recognition for its quality products, customer service, and business practices. This can include awards from industry associations, consumer publications, and other organizations.
      2. Brand Recognition
A bakery franchise with a recognizable brand can be advantageous in attracting customers to your business. Customers are more likely to trust a well-known brand, and it can be easier to build a customer base.
      3. Support and Training
Franchisee satisfaction is another critical factor in a franchise's reputation. Look for a franchise with a history of supporting and providing resources to its franchisees. This can include training and support programs, marketing and advertising assistance, and ongoing operational support. Investing in a franchise means that you will be following a set system and operating procedures. Therefore, it is essential to choose a franchise that offers comprehensive support and training programs to ensure that you understand their system and can operate the bakery successfully.
      4. Start-Up Costs
Investing in a bakery franchise can require a significant financial investment. Ensure that you fully understand the start-up costs, including the franchise fee, equipment, inventory, and real estate costs, to avoid surprises.
Equipment costs are one of your most significant expenses when starting a bakery business. This can include ovens, mixers, refrigerators, freezers, display cases, and other equipment needed to produce and sell your bakery products.
Inventory costs will include the ingredients and supplies needed to produce your bakery products. This can include flour, sugar, yeast, eggs, butter, and other ingredients, as well as packaging, labels, and other supplies.
You will need to obtain the necessary licenses and permits to operate a bakery business. This can include business licenses, health department permits, zoning permits, and other licenses and permits required by your local government.
Start-up costs for a bakery business can vary depending on several factors, including the size and location of your business, equipment needs, and inventory costs. It is essential to develop a detailed financial plan and budget to ensure that you have the necessary funds to cover these costs and start your bakery business successfully.
      5. Royalty Fees and Ongoing Costs
Most franchises require franchisees to pay royalty fees and ongoing costs for support and maintenance of the franchise system. Ensure that you understand the royalty fees and ongoing costs and how they will impact your profitability.
Royalty fees are a percentage of your sales that you pay to the franchisor for using their brand name, products, and services. The percentage of royalties varies depending on the franchisor and can range from 4% to 10% of your gross sales. Some franchisors may also require additional advertising fees or marketing contributions.
      6. Location
The location of your bakery franchise is critical to its success. Ensure that you choose a location that has high foot traffic, is easily accessible, and has ample parking.
Consider the competition in the area when choosing a location for your bakery. Are there other bakeries or businesses that offer similar products in the area? If so, consider choosing a location that is less saturated with the competition or differentiates itself from existing businesses.
      7. Market Research
Conduct market research to determine the demand for baked goods in the area you plan to invest in. Analyze the competition and determine what sets your bakery franchise apart from the others in the area.
Look at current market trends and projections for the bakery industry. Is the industry growing or declining? Are there any emerging trends that the franchise can take advantage of? A franchise with a product or service that is in high demand or has the potential to grow can be an indicator of future success.
      8. Growth Potential
Choose a bakery franchise that has growth potential. Consider the franchise's expansion plans and whether they align with your investment goals. Evaluate the franchise's growth potential by looking at its expansion plans and strategies. Does the franchise have a solid plan for opening new locations, expanding its product offerings, or entering new markets? Look for a franchise that has a growth plan that aligns with your personal goals and interests.
      9. Support for Local Marketing
Marketing is essential to the success of your bakery franchise. Choose a franchise that provides support for local marketing and advertising initiatives.
A franchisor should provide brand guidelines and marketing materials that align with its brand's image and message. This includes logos, signage, promotional materials, and social media templates. By providing consistent marketing materials, the franchisor ensures that each franchise location maintains the brand's image and identity.
In today's digital age, online marketing is critical for any business's success. A franchisor should provide digital marketing support, such as social media marketing, email marketing, and search engine optimization (SEO). This support should include guidance on how to leverage digital marketing to drive traffic to your bakery franchise's website and increase sales.
      10. Franchise Cost and Breakeven
The cost of a bakery franchise in India can vary depending on the franchise brand, location, and other factors. In general, the total investment required to start a bakery franchise in India can range from INR 10 lakhs to INR 50 lakhs or more. This includes the initial franchise fee, equipment, inventory, real estate costs, and other expenses.
In addition to the initial investment, there are ongoing costs associated with running a bakery franchise in India. These include royalties, marketing fees, and other fees charged by the franchisor. These ongoing costs can range from 5% to 10% of the franchisee's gross sales.
To calculate the breakeven point for a bakery franchise in India, you will need to consider several factors, including the initial investment, ongoing costs, and expected revenue. The breakeven point is when your revenue equals your expenses, and you start making a profit.
Assuming a total investment of INR 30 lakhs for a bakery franchise in India and an ongoing cost of 8% of gross sales, you would need to generate a revenue of INR 3.75 lakhs per month to break even. This assumes that your monthly expenses, including rent, utilities, inventory, salaries, and other costs, are INR 2.75 lakhs.
However, the actual breakeven point for a bakery franchise in India can vary depending on several factors, including location, competition, pricing, and marketing strategies. It is essential to conduct a thorough analysis of the local market and competition to determine the breakeven point and develop a sound financial plan for your bakery franchise in India.
Here are some profitable bakery businesses that let out franchises
| | |
| --- | --- |
| Monginis | 10,00,000 (approx) |
| The Cake Story | 8,00,000 (approx) |
| New Poona Bakery | 9,00,000 (approx) |
| Bakers and More | 8,50,000 (approx) |
| Atul Bakery | 10,00,000 (approx) |
Conclusion
Choosing the right bakery franchise to invest in requires careful consideration of various factors. Ensure that you conduct extensive research, understand the costs involved, and choose a franchise with a strong reputation, recognizable brand, and comprehensive support and training programs. With the right franchise and your hard work, passion, and dedication, you can build a successful bakery business.